External stairs, landscaper in Saint-Laurent du Var
In Saint-Laurent du Var, in the Maritime Alps, the family company of Landscaping Prudon realizes for you :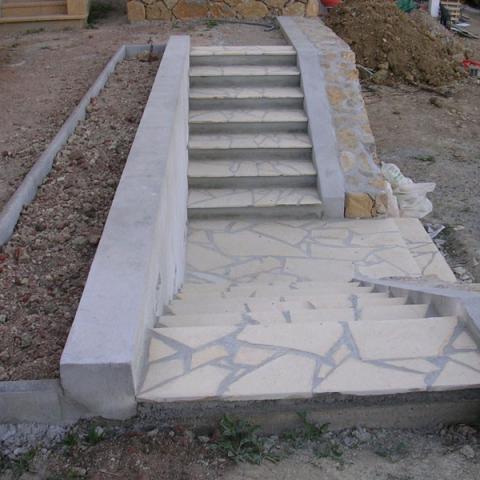 External stairs, arranged slopes, access ramps … And in the French Riviera there are plenty of all these equipments.
Very often in the big gardens, we couldn't avoid to use them.
How to choose well our stairs together :
A garden stairs is a big deal : Wrongly done, it's tough to climb even more to go down. Especially if the slopes are not well directed : if the water stagnates for example : Beware of frosts, then of falls…
The stairs get dirty faster in those conditions.. Or maybe they are naturally slippery because they can be made of tiling near an automatic sprinkler…
Railings can be necessary.
Let's create with strategic thinking stairs, the way to arrange them in order to get them attractive and comfortable : Sometimes a level at half-height could be necessary.
A house, oftenly is an investment in the long haul.
Our company has an alliance called Landscaping masonry wich is comprised of our 30 year's experienced mason and the boss.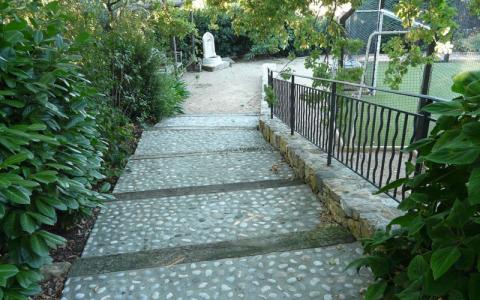 To style steps and risers :
Steps :
Then again, a stair can get so many assets under its steps… It can be covered by Bavière's slabs or lot slabs that are commonly called « Dalles de Bavière or Dalles du lot » in french ; rails, pebbles of our beautiful French Riviera, bricks or it can be made of concrete sleek finish.
Joints can be made by different colors.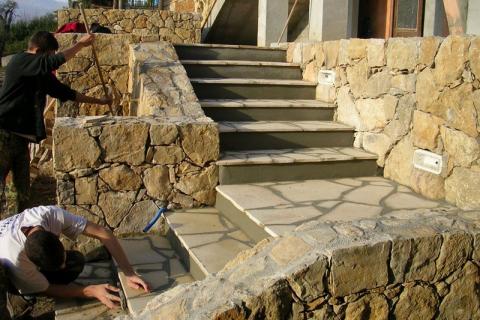 Risers :
In the risers, with the electrician's agreement, we can set some practical insights.
Besides materials previously mentioned, any other personal project can be studied.
For more informations, please get in touch with the garden company Prudon Landscaping.
Your Landscaper in Saint-Laurent du Var (Maritime Alps) next to Nice, Cagnes-sur-mer, Vence and Monaco.
Have a look also on :
Garden Creation
Paving and Flagstone laying
Walls