Pergolas, external Layout in Saint-Laurent-du-Var
The family company Prudon, Landscaper in Saint-Laurent du Var, in the maritime Alps, and its pergolas, arbours, pavilions … The garden … Amon gour business sectors, we care a lot about pergolas, arbours and pavilions.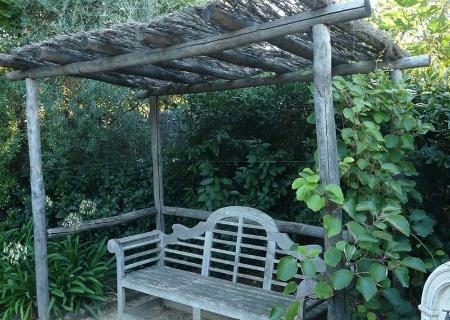 Optimization of external layout
Every shady place of relaxation we will make will truly be in harmony with climbing plants or reeds, heather, that we will have chosen.
In this landscaping layout, its distinctive characteristic besides the sun protection is to change the vision of space.
Even in a closed place, a patio, whatever is the garden layout, the simple view of this element unavoidable in our south gets the place bigger : hanging lights for long evenings, pots can be suspended too, creepers here and there budding with flowers or fruits…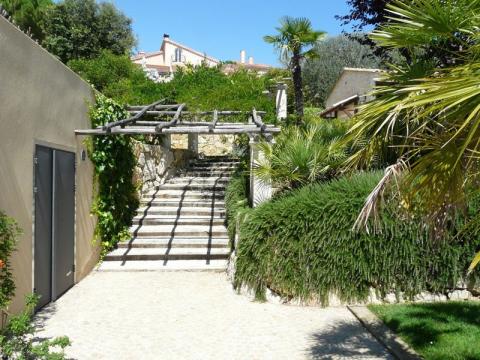 Our pergolas will fit to the structure of the land
But the pergolas don't only fit to the structure : Made to measure and with our experience in this kind of landscaping layout, we will choose the height, the width, the style and so the global aspect. Well a pergola that perfectly fits to your garden and not the opposite.
An arranged gazebo with a little bench to overhang a belvedere … A little romantic. A place where we want to spend some time. A grapevine, kiwi fruits and then in summer some beans, zucchinis … flourishing on an arbour. Without counting that the pergolas are also there to get the climbing stairs in bright sunlight easier. The pergolas can also protect a patio or a boules pitch. Wooden pergolas … concrete pergolas … stoned pergolas … Whatever the material is, the logic stays the same… Because we do care of all your garden projects plans and external layouts in general.
For that too, we occur from Villefranche-sur-Mer, Nice and its surroundings up to Grasse passing by Vence, St-Jeannet, Saint-Laurent du Var in the maritime Alps.