PASSABLE TRACKS OR NOT/ ACCESS RAMPS, HANDICAPPED ACCESS HANDIBAT IN SAINT-LAURENT DU VAR AND NICE
Based in Saint-Laurent du Var (Maritime Alps) The family company of garden from A to Z Prudon Landscapes realizes walkways in your park or garden.
...Passable tracks or not, access ramps, lanes, courtyards...
To park one or several of your vehicles upon a stabilized surface and not on a disturbed one. To think of a minimal maintenance.
Thanks to the complementary skills of the landscaper Boss and of our mason, we can set up these external layouts that will get your moves easier. Because the landscaping masonry is also our job. To get without struggle from the garden to the house, or from the house to the parking...
Thanks to well designed lanes. To get a beautiful and pleasant garage's walkway in everyday life. And then to plan a lunch, a walk in the garden when it rained the day before,it 's almost impossible if none layout has been imagined. Eventually working with an electrician for the lightning of the lane. To receive storm water, to create gutters and slopes to get this water through downspouts to irrigate the yard...
To move without slippering, without hurdle in your lane, your courtyard. A courtyard, a garden, an aisle… can be decorated by many things.
Melt gutters, plastic gutter or with galvanised grid… As aisles that can be made by stones, interlocking paving stones, slabs and bricks... Everything in a very wide choice of colours.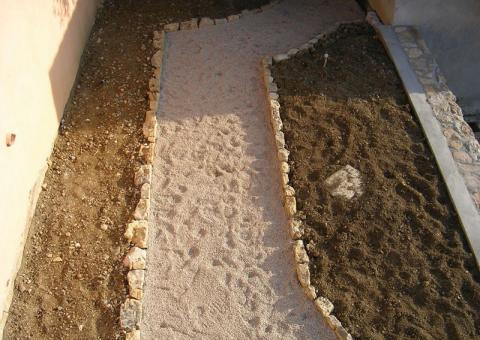 We do see courtyards and aisles everyday so let it be beautiful with minimal maintenance and mainly without problem.
That's why Prudon company has obtained at the end of a training the handibat certification.
HANDIBAT = Handicapped Access but also Advantage for everyone.
Created by handicapped people for handicapped people and getting life easier for everybody by learning difficulties of everyone :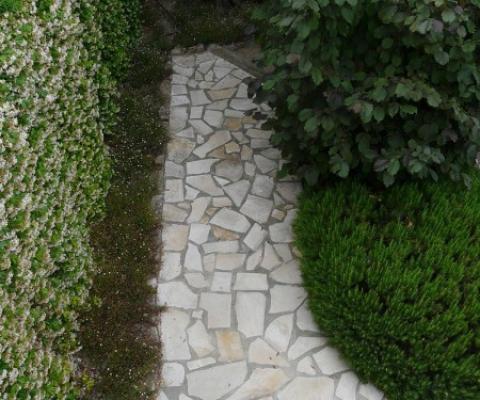 Whether it is for reduced mobility people or visually impaired people...
To ever find the most appropriate solution .
Eventually removing steps and creating sweet slopes, guard rails, guide bands... Well, an access ramp for disabled people with an appropriate degree of steepness and comfortable in best case. And we can also occur for places that receive public, as private individuals whom have specific needs. We can't ignore handicapped accesses.
Your landscaper's wide range of actions in maritime Alps (06) goes from Monaco, Villefranche... up to all the coastal strip. Saint-Laurent du Var of course, Cagnes-sur-Mer… up to Antibes… All the aera of Nice including Vence up to Grasse's hinterland