Your Landscaper
Here you are – Welcome – Your landscaper
The family company of garden Prudon Landscapes created in 1992 is happy to see you on its website. Based in St-Laurent du Var since its creation, we occur all around Maritim Alps and in general especially from St-Jean Cap Ferrat, Nice and its surroundings, Cagnes-sur-mer, Saint-Jeannet up to Antibes and in the hinterland of Grasse, Vence, Le Rouret… Since that date we endeavour to give you the best service possible for any creation activity, garden maintenance, or green spaces remediation.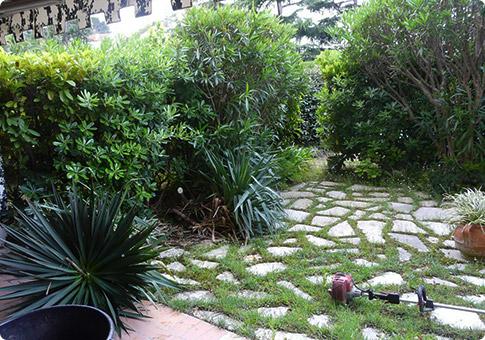 Our active team is composed by our 30 years experienced Boss whom is landscaper.
Our mason redeployed within the company since 10 years and whom has brought with him his technical knowledge in the sector of masonry.
And the latest one, trained as a BEP apprentice, BAC PRO landscaping works working since 3 years as an employee.
For your garden creation, we have to know your tastes, your wills… We can build some walls, lower walls, fences, stairs, stands, entrance ramps, driveways.. And then paths, paving ones too.. Garden parquets but also garden ponds, lean-tos or pergolas and garden watering systems, grassing.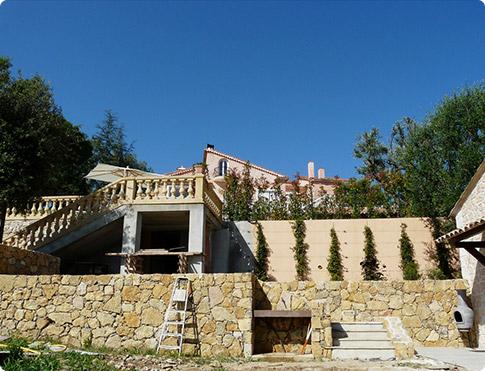 But we also occur for terraces and villas on roof, a very interesting work because of the difficulty to plant vegetation in an artificial environment considering their abilities to adapt themselves. A feature we have, however, to conceive as any other landscape design. It's all about that, and even more, Landscaping !
And obviously, we do some brushing, sometimes some felling as our Boss was a logger on the beginning of his career. As you may have seen or will in our website's sections, we have several lines of business concerning Garden Landscaping and external design. That's the way we work for every requester : Individual, co-ownership and public.
You may have a look on these :
Terraces
Stairs
Garden renovation