Paving and Flagstone laying in Saint-Laurent du Var (Nice)
The company Prudon Landscapes based in Saint-Laurent du Var (Maritime Alps) occurs in Saint-Jean-Cap-Ferrat, Nice, Cagnes-sur-Mer up to Antibes and in the hinterland of Grasse returning by Vence. We maintain your garden from A to Z and we are proud of our external floors and terraces, wich are, in our opinion, inescapable in external layouts.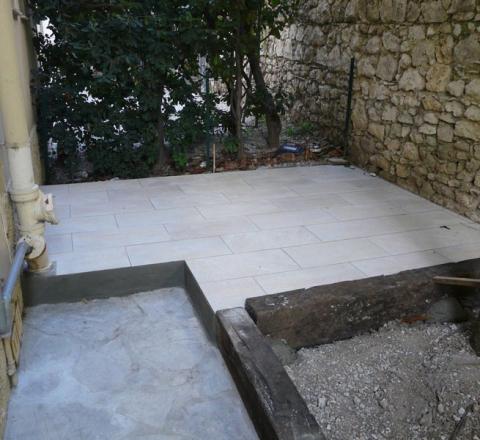 The wooden grating for your terrace
For the terrace arrangement, exotic wooden grating (decking boards) doesn't rot. It can be varnished or simply natural. If you decide to not apply some varnish on it, in few years the wood will become grey but its longevity and strength won't be attained.
Our wooden gratings are choosen for their durability :
100% wooden realization and 100% iron put on concrete studs. Studs and not screeds because the combination of wooden grating on iron studs are effective to let rainwater infiltrate.
We can also insert between studs an electrical cable or a garden hose … And to access below at any time, there will just need to remove a board of the terrace.
100% handmade work with an affordable price.
Materials are chosen for their proven effectiveness over time and without health impact.
Our artisans apply your terrace wood flooring in Saint-Laurent du Var.
Our floors will fit every shape and every size that you want, even if they are square or curved.
Our first duckboards, wooden ones of course, were applied 15 years ago and they never moved.
And to get a more comfortable product at the end, a sandpapering may be necessary to remove any splinter.
In this way, you will enjoy to walk on it barefoot.
The advantage with the wood is that it doesn't get warm as mineral would do, wich avoid any risk of foot burn just after a bath time in the swimming pool.
Some lights combined with electrical outlets can be realized and added to the terrace.
We do work with an electrician so this idea could be completely practicable.
In other extensive projects, some flowerpots made by the same wood as the terrace can be embedded or inserted into chests.
Any request or idea will be considered by your Landscaper in Saint-Laurent du Var (Maritime Alps).